What is schema markup and how does it influence web pages?

Types of schema markup

How schema can positively influence SEO

The most powerful schema types for businesses

The difference between schema, structured data and microdata
Digital marketers looking to elevate their search engine optimisation (SEO) performance should consider implementing one of the industry's most essential techniques, such as schema markup.
Surprisingly a large number of marketing professionals ignore this when it comes to putting together SEO plans… and it's a big miss! Although schema can be difficult to grasp due to its technicality, once you know how to implement it properly, you will see a significant increase in where your web pages appear in search engine result pages (SERPs).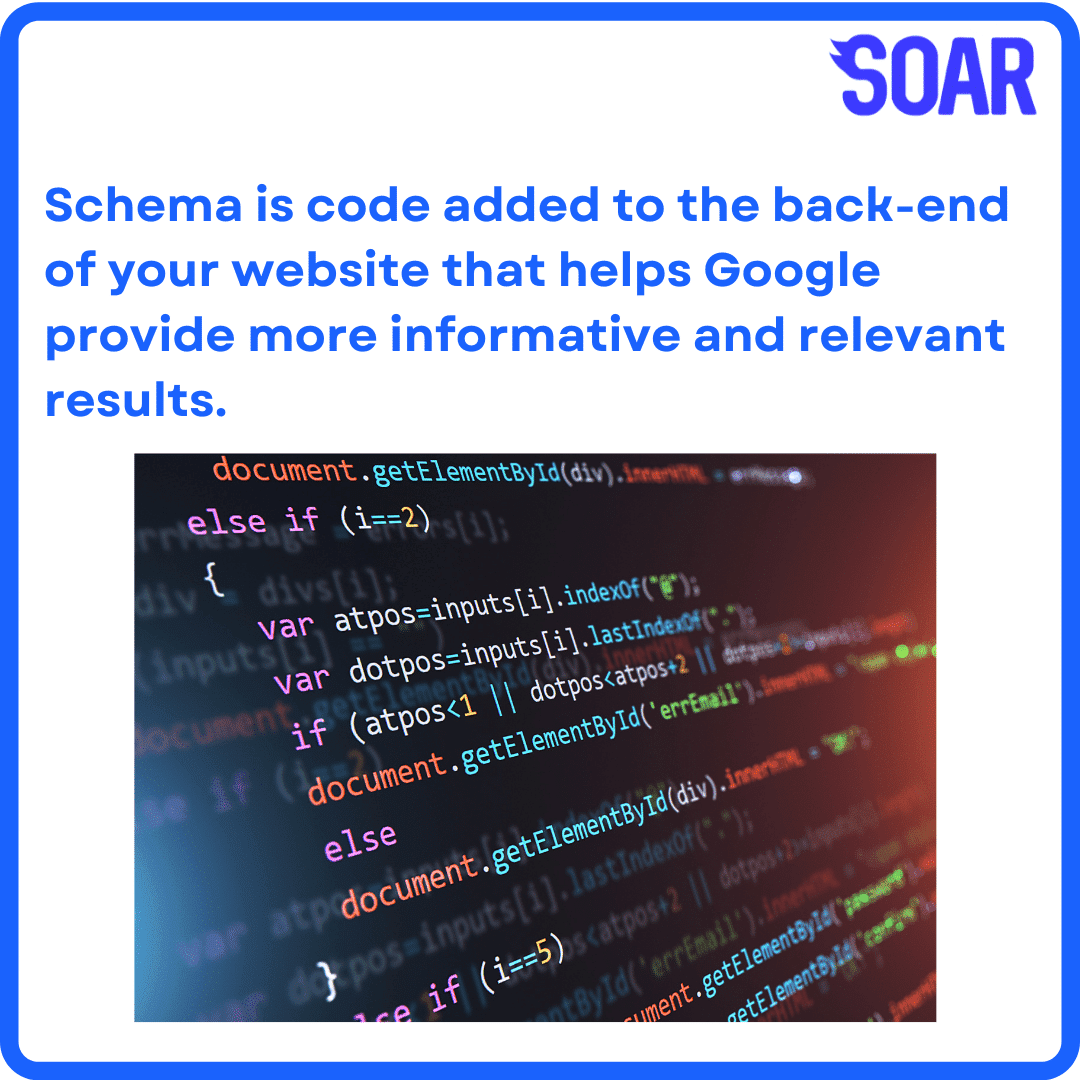 What is Schema?
Schema is essentially code that needs to be added to the back-end of your website/page to help Google provide more informative and relevant results to users. Schema is similar to 'rich snippets' – so if you have used that before, you are on the right path.
Code Example
No Time To Die
Director: Cary Joji Fukunaga (born July 10, 1977)
Action/Adventure Trailer
To get the rich snippet, you would use the following code:
https://schema.org/Movie">
No Time To Die
Director: Cary Joji Fukunaga (born July 10, 1977)
Action/Adventure
Trailer
Adding schema markup to your web pages can help search engines better understand the content on that page and improve findability with rich results, which helps to make your brand more prominent in SERPs.
You can use Google's Structured Data Markup Helper to help generate schema for elements on your web pages, which will enable Google to present those listings more attractively in search.
What Does Schema Do?
As it stands, Google bots can read what your content says, but the schema doesn't tell Google precisely what your content means. For example, if I were to post this blog and sign it off with my name as the author 'Callum Brazier', Google would read my name but treat it as a couple of random words. By using the Schema markup correctly, I can tell Google bots that 'Callum Brazier' is, in fact, the author of the article, allowing search engines to then produce more accurate results for somebody that searches for 'Callum Brazier'.
A classic example is 'Paris Hilton'… Google can read the words but does not know how to categorise them – is it a Hilton Hotel in Paris or is it the celebrity? Schema helps Google understand that Paris Hilton is a media personality and businesswoman.
According to Schema.org, the official description is: Most web administrators are familiar with HTML tags, a set of characters formatted into a command for the website that informs the browser about how to display the information included in the tag.
For example,
No Time To Die
informs the browser to display this string of text as Heading 1. However, HTML tags do not offer search engines any information about what the line of text means. Is "No Time To Die" referring to the movie or the Billie Eilish song?
However, as the HTML tag doesn't offer any context, it can make it difficult for search engines to display the results intelligently. Schema overcomes that issue by providing web admins with a collection of shared vocabularies that will allow them to markup their web pages in ways that crawlers can understand.
Types of Schema Markup
There are three types of schema markup formats, which are supported by the most popular search engines. These are:
The structured data is then arranged into a hierarchy of types, each associated with a set of properties. The schema markup formats currently contain 792 Types, 1447 Properties, 15 Data Types, 83 Enumerations and 445 Enumeration members.
While there are hundreds of vocabularies, the most common types used by webmasters are:
Action

Creative works: CreativeWork, Book, Movie, MusicRecording, Recipe, TVSeries

Embedded non-text objects: AudioObject, ImageObject, VideoObject

Event

Health and medical types

Organisation

Person

Place: LocalBusiness, Restaurant

Product: Offer, AggregateOffer

Review: AggregateRating
Google also has over 30 different types of rich results now, the latest addition being a Price Drop search appearance for product pages.
Here are some of the most common types of rich results that you've more than likely seen populate SERPs:
Article

Breadcrumb

Event

FAQ

How-to

JobPosting

Logo

Product

Q&A

Review Snippet

Video
Here's an example of how schema adds reviews to your Goole listings:
Each type of rich result contains properties that describe the web page in more detail. For example, the "breadcrumb" rich result informs Google about the page's position in the site's hierarchy and could help users explore your website more effectively.
Similarly, the "event" schema can contain the properties "name (title)", "start date", "end date", "location", and "performer", depending on how detailed you want the result to be.
Is It Hard to Implement Schema on a Website?
In a word, no. If you already know HTML coding, you will more than likely be able to implement it straight away. Schema still uses HTML; the only difference is adding bits of Schema.org vocabulary.
Where Did Schema Originate?
The official Schema website; schema.org is the product of a collaboration between Google, Bing, Yandex, and Yahoo!
It's very rare for industry leaders and competitors to come together and work on a project. However, in this case, it benefitted all parties involved by providing search engines with the information they needed to create a richer browsing experience for users.
While we know that Google, Bing, Yandex and Yahoo! are using schema markup, it remains unclear whether other search engines are using these codes to alter how they display results in SERPs.
Why Is Schema So Important?
Quite simply, websites that utilise Schema markup will rank better on search engine results than ones that don't.
Recent studies show that less than 1% of websites on the World Wide Web are using schema correctly. As a result, it's hard to determine exactly how much of a difference it will make on your results, but by using it, it's more than likely you will have an advantage over your competitors.
Schema can be tricky to implement whether you are a beginner or have limited HTML knowledge. If you would like any further advice on schema or would like to arrange a meeting with one of our SEO experts, please feel free to get in touch.
What are the SEO benefits of Schema Markup?
The main benefit of schema markup is to create a rich result for your web pages, making it easier for crawlers to understand your content and for users to find your brand by making it more prominent in SERP placements.
However, there are other benefits of adding schema to your web pages beyond those mentioned above. For example, schema markup also improves SEO by producing:
Higher clickthrough rates (CTR): Data shows that the average CTR for rich results increased to 58% compared to 41% for non-rich results. Some rich results have even more success, with some reporting a CTR as high as 87%!

Improved Targeting: Helps you reach your ideal customers by offering a standout solution to the user's query.

Brand Awareness: Generate more recognition for your brand by appearing more prominently in search results.

Get a CTA: Google will serve some rich results with CTAs like "Call Now" or "Get Now," which can help bolster clicks and conversions.
Powerful Schema Types for Businesses
Some essential schema types can help improve website SEO performance, findability and conversion rates.
If you're wondering which scheme types would be the most useful for you, we've outlined some of the most powerful for businesses, especially small and medium-sized companies.
Organisation Schema Markup
Organisation schema markup helps improve brand visibility by combining essential information about your company into a knowledge panel that appears in SERPs.
The knowledge panel, which appears on the right side of search results, will show up for search queries that include your brand name and will display detailed information such as:
Logo

Social profile

Address

Telephone number

Opening hours
Depending on the business, the knowledge panel may also reveal information about stock price, founders and subsidiaries of the company.
Local Business Schema Markup
Local business schema markup is one of the most effective forms of structured data for small and medium-sized businesses.
As Google knows, when a user is searching for a local offering, it will rank local firms at the top of SERPs to deliver the most relevant results to the user. Local business schema markup allows businesses operating on a regional scale the chance to compete more effectively with national firms by improving company visibility.
However, since most local searches happen on mobile, make sure you improve your appearance in Google Maps to make your business easy to locate. This forms the foundation for an excellent Local SEO strategy.
Sitelink Schema markup
Sitelink schema markup gives users more options when they search for your website and has become one of the fastest-growing schema implementations on the internet.
Google creates site links, which occupy approximately 90% of the above-the-fold screen space to help direct users to the most important pages on your website. You can also implement a site search box for branded and navigational search queries, where the search engines help users find relevant results from a particular website.
The feature also allows webmasters to drive potential customers to other pages of their site instead of competitors, making it a powerful tool for marketers.
Review Schema markup
It's important to let search engines know that you have happy customers.
Furthermore, since 93% of customers read reviews before purchasing a product or service, the rich snippet for review or rating markup could be the difference between a customer shopping with your or a competitor.

Arguably, every business should be implementing the review schema due to how much influence reviews have in a buyer's purchasing decision. And if you have good reviews, why not display them in SERPs for users to see?
Review snippets appear in rich results with gold stars alongside the number of reviews your product, local business, event, or software has received. The markup has also been proven to enhance CTR, with one brand citing a 150% increase in clickthrough rates after they enabled review schema to their product pages.
Can you test schema markup?
You can test whether the schema markup on your web pages has been correctly implemented using Google's Rich Results Test.
Simply copy the designated URL into the search bar in the tool. Google will then inform you whether the page is eligible for rich results and if any invalid items need to be considered to improve the markup.
What is the difference between Schema.org, microdata, and structured data?
Structured data refers to the process of pairing a name with a value to help search engines understand and index your content. On the other hand, microdata is a branch of structured data that operates alongside a markup language known as HTML5, which is used for presenting content on the web.
Meanwhile, Schema.org is a website that publishes guidelines on agreed-upon definitions for microdata tags and using structured data markup on web pages.
Structured data's effect on rankings
While structured data does not directly impact rankings, it has an indirect effect as it helps crawlers understand the content on a web page, and this can influence how search engines such as Google decide to feature the page in SERPs.
Currently, there is no conclusive evidence that structured data improves rankings. However, that shouldn't make you think it's a useless tool. Before dismissing the idea, see whether implementing rich snippets and schema markup on your site positively influences engagement levels and clickthrough rates.